A food safety supervisor course with Food Safety Australia, is currently one of the easiest and most cost-effective ways to obtain food your required food safety supervisor qualification in NSW.
Owners of registered food businesses must ensure those who handle food within their business handle foods safely. To ensure this happens, the owner must nominate a Food Safety Supervisor, who has the responsibility of recognising, preventing and alleviating the hazards associated with food handling in your workplace.
Businesses that do not yet have a Food Safety Supervisor  should comply with this requirement as soon as possible to avoid substantial penalties. To comply with these requirements, the nominated Food Safety Supervisor must also hold a Statement of Attainment issued by a Registered Training Organisation (such as Food Safety Australia). There are severe penalties for not having a suitably trained Food Safety Supervisor.
The NSW Food Authority have 3 additional topics that become part of the Food Safety Supervisor certification. This includes training in three key focus areas – cleaning and sanitising, safe egg handling and allergen management.
This course has been designed to help you develop the skills and knowledge required to achieve competence in food safety. Each module of the food safety supervisor course will help you to achieve one of the required elements of competence. You will be provided with a series of presentations and a quizzes, make sure you are completely comfortable with the presentation content before attempting the quiz, you may view them as many times as you feel necessary. We also provide a PDF of student notes, which you can print out for ready reference whilst completing the course.
You are required to achieve a grade of 100% for each of the seven quizzes in this course and you are allowed up to three attempts for each quiz. After you complete the on-line quizzes you must also complete and return the Supervisor Validation Form and Workplace Assignment.
These forms are part of the overall assessment. It is a requirement that you are able to demonstrate the application of the skills you have gained from the on-line course in a practical way in a commercial kitchen.
The 'Supervisor' can be anyone you are working alongside providing they are in the position to make valid comments on your performance. They should have at least 2 years experience in food service and preparation, or be a supervisor/team leader/manager of a food establishment or hold a food safety qualification.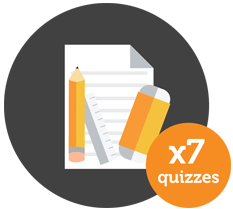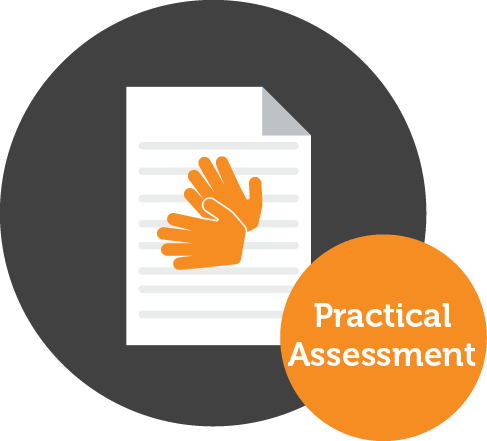 If you are not currently working within the industry and do not have immediate access to an operational commercial kitchen then you may be able to volunteer for one or two shifts at another workplace to complete this component. Simply ask around in your local area. It could be a café, bar, restaurant, bakery or deli etc.
Alternatively, if you have worked in a food business previously, then perhaps you could contact your previous employer or a suitable work colleague whom can complete the form for you based on past observations.
Important: The last component of this online course, will require that you have access to a food workplace (either as an employee or a volunteer). This food workplace should:
An operational commercial food preparation area, bar or kitchen with the fixtures, large and small equipment and workplace documentation defined in the Assessment ; can be a real industry workplace simulated industry environment such as a training kitchen servicing customers
Have real food ingredients and food items
Be fully equipped for food preparation (eg. a commercial kitchen, catering production line or food preparation area of a food outlet)
You will need a USI to enrol in this course.

The Unique Student Identifier or USI is a student number given to you by the government. It is made up of 10 numbers and letters that:
Creates a secure online record of your recognised training and qualifications gained in Australia, even from different training organisations
Will give you access to your training records and transcripts
Can be accessed online, anytime and anywhere
Is free and easy to create and
Stays with you for life
Who needs a USI and why?
If you are a new or continuing student undertaking nationally recognised training and course you need a USI in order to receive your qualification or Statement of Attainment. If you don't have a USI you will not receive your qualification or Statement of Attainment.
How to get your USI
It is free and easy for you to create your own USI online. Click this link usi.gov.au. It only takes a few minutes!

Businesses such as restaurants, cafes, hotels, motels and caterers. Take away and fast food businesses can be considered either retail or hospitality food businesses.
Use hygienic practices for food safety (SITXFSA001)
Participate in safe food handling practices (SITXFSA002)

Businesses such as supermarkets, convenience stores, grocers, markets/stalls and delicatessens. Take away and fast food businesses can be considered either retail or hospitality food businesses.
Apply retail food safety practices (SIRRFSA001A)
The NSW Food Authority has a requirement for a certificate to be issued in the New South Wales Food Authority format.
The Food Safety Supervisor certificate is issued by 'an approved Registered Training Organisation (RTO)' in addition to the Statement of Attainment after successful completion of the training requirements.
An FSS certificate states that the person it is issued to is qualified to be a Food Safety Supervisor. We, the RTO will issue the Food Safety Supervisor course certificates and cannot charge more than $30 for these, as approved by the NSW Food Authority. The FSS certificate is valid for five years from the date of issue.
The summary of costs are as follows:
Food Safety Supervisor course online: $159.00  *You will receive a Statement of Attainment upon successful completion
Issue NSW Food Authority certificate: $30.00 *This is what the NSW Food Authority charge us!
Registered post and handling charge: $10.00 *You will receive your certificate within 5-10 working days upon successful
Total Cost of this course for NSW residents: $199.00
Follow these steps to make your purchase
$199.00
1
Select number of enrolments required
3
Click the order now button
Once your order is complete you will be sent your order details and your log in credentials via email.
If you are purchasing multiple courses or a course for somebody else, you will also receive an email containing a link to go and enrol your user/s.
Frequently Asked Questions